VIP patients who visit us in the 4th Quarter will be entered to win one of these 10 Winter Wonderland Giveaways! Ask us how to be a VIP!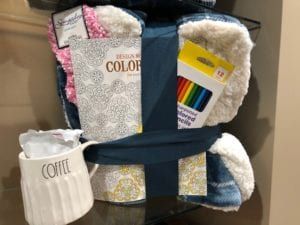 Stop by or call (804) 897-2900 for details!

Join us in supporting Home Again!  We will be collecting donations through the end of 2019.  Please bring a donation at your next visit or stop by anytime and say Hi.  Some of the things they ask for are NEW pillows, NEW twin sheets, NEW bath towels and wash cloths, household cleaning supplies, kitchen and cooking supplies, and school and craft supplies.
Thank You!
Find out more information about Feed More, visit them at www.homeagainrichmond.org
Randazzo Dentistry is a premier dental facility located in Midlothian, VA.
We promise our dedicated family of patients that they can count on our friendly, knowledgeable, and compassionate team to deliver high quality dental care with comfort and clarity in a light-hearted atmosphere. We endeavor to inspire happiness, encourage well-being, and build lasting relationships with our patients, who ultimately become ambassadors for our practice. In addition to personalized care we also offer:
Early morning and evening appointments
24 Hour access to Dr. Randazzo by email
A practice where everyone knows your name
No Dental Insurance? Ask about our in office dental plan!
And much more!
Visit us in our beautiful spa like facility to experience a dental office so relaxing you will not want to leave.